Return to Search
Return to Search Results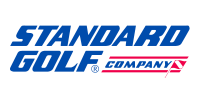 Standard Golf Company
Company Information
| | |
| --- | --- |
| Mailing Address: | PO Box 68 |
| | Cedar Falls, IA 50613-0010 |
| Location Address: | 6620 Nordic Dr |
| | Cedar Falls, IA 50613-7490 |
| County: | Black Hawk County |
| DMA: | 637 - Cedar Rapids-Waterloo-Iowa City IA |
| CBSA: | 47940 - Waterloo-Cedar Falls, IA |
| Region: | 4 - West North Central |
| Phone: | (319) 266-2638 |
| Fax: | (319) 266-9627 |
| Toll Free Number: | (866) 743-9773 |
| Website: | http://www.standardgolf.com |
Contact Information
| | |
| --- | --- |
| Owner/President: | Peter Voorhees, President/CEO |
| Head of Sales: | Lind Hunemuller, National Sales Manager |
| Head of Marketing: | Matt Pauli, Director of Marketing |
| Other Contact(s): | Pat Ryan, Manager, Traffic and Export |
| | Sydney Shook, Marketing Specialist-Graphic Design |
| | Sisue Thurm, Accountant |
Business Segment Description
Year Established:
1910
Number of Employees:
11-49
Ownership:
Private
Target Audience:
Facilities
Segment(s):
Facility Product
Range/Mini Golf

Company Description
With the fastest shipping, industry leading customer service and the most extensive worldwide distribution channel in the industry, Standard Golf is committed to providing you with the best golf course accessories on the market. Manufacturer of golf course accessories, including ball washers, bunker rakes, flagsticks, flags, tee markers, etc.
Company Accomplishments
From the greens of St. Andrew's to Amen Corner in Augusta, golf is a sport rich with tradition and history. And, for the last Century, Standard Golf has been there every step of the way. In that time we've learned that the people behind the game appreciate products that last and service that's second-to-none. We look forward to providing superior products and service for another 100 years!
Return to Search
Return to Search Results
© National Golf Foundation
Member Directories Terms of Use: The NGF Directories of facilities and businesses are for internal use by members in good standing. The Directory is provided to help connect members and facilitate communication within the industry. Directory content is proprietary to NGF and not to be used to build databases for marketing, business development, mailing lists or any other member or third-party use. If you would like to utilize the best-in-class NGF databases and direct marketing resources to support your own business objectives, please contact NGF. Subscriptions, licenses, list rental and expert direct marketing services are available. For more information, click here.